Children Enjoy Housing Authority Annual Holiday Party
Children of all ages residing in the Cowanesque Valley enjoyed an afternoon of holiday festivities this past Thursday at the Tioga County Housing Authority's annual Christmas Party. 
"We love this event," said Executive Director, Kelley Cevette. "This is our fourth year doing it and it just keeps getting better. It's a chance for us to do something special for the children who live in our buildings and it's clear, they love it too."
The event continues to be free of charge for children residing in public housing in Westfield, Elkland, Nelson and Lawrenceville, PA. Attendees enjoyed snacks, toy giveaways and the opportunity to create and wrap a gift for their parents to open Christmas morning.  Attendees also got an opportunity to visit with, and take a photograph with Santa Claus.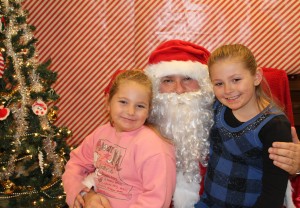 "As always, it was a great turnout," said Tioga County Housing Authority Assistant Project Manager, Amy Walters. "Seeing the looks on the kids' faces when they see Santa Claus and get a present is just awesome."
Walters, along with other Housing Authority staff and tenant volunteers from Forestview Manor kept things moving as children made their way from station to station. Donations from the Pennsylvania United Medical Association, Central Pennsylvania Food Bank and Wal-Mart of Mansfield, PA helped to make the event possible.
"We're very grateful to the organizations and businesses that sponsor this event every year," said Tioga County Housing Authority Resident Service Coordinator, Crystal Hallock. "Our volunteers also play a huge part in making the day a success."