Gardening at Keystone Manor
KEYSTONE MANOR RESIDENTS GROW THEIR OWN FOOD
For the past several years, raised garden beds at Keystone Manor in Sayre, PA have provided tenants the opportunity to plant and grow their own vegetables.
"I've been doing this all my life and I'm happy to have these beds here so I can continue gardening," said Bernie Pietro, a tenant at Keystone Manor. "It's one of the reasons I like living here. It makes it feel homey."
Pietro explained that he and other residents have been utilizing the gardens for the past four years. Pietro proudly described the care he personally puts into the gardens by carefully selecting the appropriate dirt and fertilizer for his plants. This year Pietro grew tomatoes, peppers, and plans to expand next year to include onions, squash, and cucumbers. Pietro stated that he uses what vegetables he can eat and shares the extras with other tenants in the building.
Housing Authority staff have partnered with the residents to not only construct the beds but assist in preparing the grounds. "I built two new beds this year and plan to replace the two older ones next year," said Maintenance Laborer, Bob Clymer. "I bring my tiller each year to prepare the soil for planting and I help with the dirt and fertilizer."
Clymer said the numbers of tenants involved in the gardening process has lessened this year presumably because of COVID-19 concerns but for those who still choose to participate, it clearly provides a therapeutic outlet.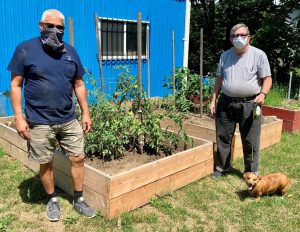 Pictured: Bernie Pietro and his dog, Bella showing off his tomato plants with Housing Authority Maintenance Laborer, Bob Clymer.