Housing Authority Introduces New Central Office Building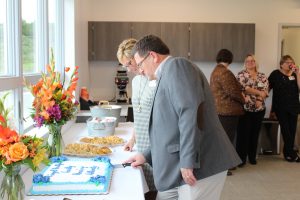 Photo features Bradford County Commissioner, Ed Bustin cutting a "Welcome Cake" in celebration of the Housing Authority's new Central Office building as Executive Director, Kelley Cevette looks on.
Tuesday, September 25, 2018, the Tioga/Bradford County Housing Authority hosted an Open House at its new Central Office building located in Mansfield, PA's Industrial Park.
"The site of our new headquarters will be very visible to the citizens and let them know who and where we are," said Bradford County Board of Directors Chairman, Roger Graham. "I congratulate our staff for the efficient operation of the Authority to be able to afford us this opportunity and with no additional funds from tax payers."
The project was funded solely with the Authority's Central Office reserve funds and as result did not increase rents for tenants or taxes for county residents. The new building boasts a variety of energy efficient features and currently houses sixteen employees.
"This move to the 21st Century will enable the Housing Authority to appropriately accommodate staff and by extension to meet the challenging needs of our two large counties," added Tioga County Board Chairman, Peter Lupkowski.
Authority staff and Board Members greeted and provided tours for visitors who enjoyed light refreshments throughout the afternoon.