Housing Authority's Summer Exercise Program a Hit
The Tioga/Bradford County Housing Authority's "Summer Kicks" exercise program was well-received by children and parents currently residing in the Authority's family units.
"This program was such a great idea," said Tawni Ledo of Blossburg, PA. "My daughter is usually very active in the summer but this helped her stay on track." 
The program asked school-age children to make a commitment to take part in a minimum of sixty minutes of play at least five days a week for the month of July. Participants kept a log of their activities and had a parent or guardian sign-off each day. Sixteen of the eighteen children from Elkland, Blossburg and Canton, PA who signed-up, completed the program. All sixteen received a certificate of completion along with a brand new pair of sneakers at the Authority's annual back-to-school celebrations.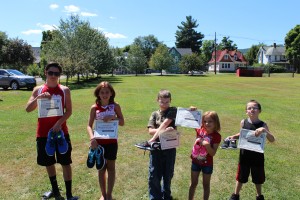 "We really want to encourage our tenants, no matter what age, to lead a healthy lifestyle and make exercise a part of their daily routine," said Executive Director, Kelley Cevette. "And it's always nice when we can add a perk like new sneakers."
Service Coordinator Nicole Siedhof echoed Cevette's sentiments. "Our kids need to remember that it doesn't matter what kind of exercise you get as long as you're doing something. Hopefully, the kids that participated will continue to make it a point to get outside every day and stay active."