HUD Regional Team Visits Housing Authority
HUD REGIONAL TEAM VISITS HOUSING AUTHORITY
The U.S. Department of Housing and Urban Development's three-day tour across the northern tier of Pennsylvania made a stop at the Tioga/Bradford County Housing Authority's Central Office in Mansfield, PA.
"It's always a pleasure to meet with members of HUD's regional team," said Executive Director Kelley Cevette. "We discussed various challenges we face as an Authority and what programs we have implemented that have offered additional support for our residents."
Thursday, October 17, 2019, Cevette and Deputy Director, Sean Sember met with Regional Administrator, Joe DeFelice, Senior Advisor, Elvis Solivan and National Advocate, Thomas Rossomando. The meeting was one of a handful happening in Tioga, Bradford and other neighboring counties this week. The primary objective of these meetings is to discuss how HUD can help those who live in or improve public housing.
"Members of our office do not get to this part of the state often, but when we do, we always come away with useful information and input," said DeFelice who currently serves as the Assistant Deputy Secretary for the Office of Field Policy and Management as well as Regional Administrator for the Mid-Atlantic region.
In addition to making self-sufficiency a primary goal in subsidized housing, geographic and rural transportation challenges as well as the need for the continuation of grant-funded HUD programs were topics discussed.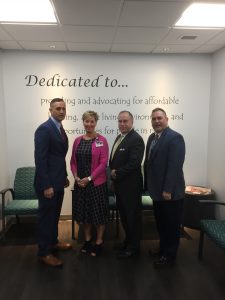 Pictured here: HUD Regional Administrator, Joe DeFelice, Housing Authority Executive Director, Kelley Cevette, National Advocate, Thomas Rosssomando and Deputy Director, Sean Sember .